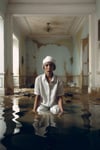 Series Title: An Tuile (The Flood)
AI/Photographic Self Portrait
/imagine a future world affected by flooding brought about by climate change. In this series, I harness the power of artificial intelligence to shed light on the inconceivable notion of carrying on with normalcy amidst these unimaginable circumstances. I use my (younger) self as a model, envisioning an uncanny portrayal of a future life that defies reason.
By combining self-portrait photography with AI technology, I strive to create imagery that stretches the boundaries of imagination, providing a thought provoking commentary on the realities we may face.
The flooded environments depicted become an other-worldly stage, emphasizing the inherent contradictions we face with a climate-altered world.
By positioning myself as both subject and observer, I invite viewers to question their own place within these bizarre realities.
Through the lens of AI-generated art, I challenge the viewer to confront the uncomfortable truth that our current path is untenable.
Size 20" x 13.33"
Edition of 10
Archival Pigment Print on Hahnemühle fine art photo rag 308gsm paper
Unframed